Click here to read about our staff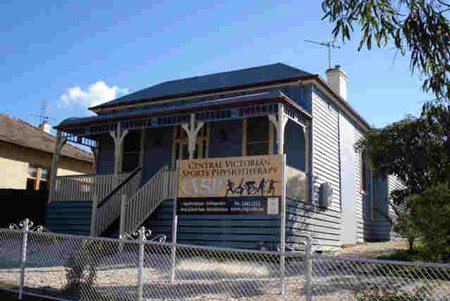 Central Victorian Sports Physiotherapy was established in 2008 as a service to all Central Victorians in need of expert Physiotherapy assessment and treatment for Orthopaedic, Sports and Spinal conditions.
Since that time, we have established a reputation amongst local residents and referrers for excellence in our diagnostic and therapeutic skills, particularly with regards to recurring and difficult conditions. In 2014 we partnered with Bendigo Orthopaedics and Sports Medicine to provide physiotherapy services within their Barnard Street premises to clients with a variety of musculoskeletal issues.
We pride ourselves on our extensive technical knowledge, experience and clinical reasoning skills to arrive at a working diagnosis and implement immediate treatment with results. We believe in empowering out patients with knowledge of their condition and the expected course of management, and will always attempt to involve our clients in their rehabilitation actively.
The practitioners at Central Victorian Sports Physiotherapy use advanced clinical reasoning skills and honesty to develop a treatment plan that allows you to return to your chosen activity as quickly as possible, and work with you to achieve your desired outcome. We believe in extensive assessment as the conduit to providing appropriate manual therapy and therapeutic exercise to achieve our goals, always working one on one with our clients.
Our Physiotherapists & Staff
Craig Mansfield
Practice Principal
Qualifications:
B. Physio (Hons)
M. Physio (Sports)
APA Sports Physiotherapist
Craig was born in Bendigo and completed his physiotherapy degree at the University of Melbourne in 1996. His post-graduate year was spent at the Australian Institute of Sport working on a wide range of sporting injuries, particularly athlete screening and testing protocols for Olympic sports nationwide.
The following 8 years were spent working in Private practice in both Melbourne and the United Kingdom, where Craig developed extensive experience and knowledge in treating sporting injuries and orthopaedic conditions. During this period, Craig worked with professional athletes from Hawthorn Football Club in Melbourne, Saracens Rugby Club in London and several Victorian Volleyball teams. Craig then completed his Masters Degree in Sports Physiotherapy at the University of Melbourne and was granted the title of A.P.A. Sports Physiotherapist.
Since opening CVSP in 2008, Craig has continued to update his clinical skill set, with regular attendance at conferences, lecture evenings and courses, including the level 3 Sports Physiotherapy course at the AIS, to ensure that he maintains the latest in clinical reasoning and skills. He spent 8 years as head physiotherapist with the Bendigo Spirit WNBL team, including back to back premierships in 20013/14. He continues to work with Bendigo Interleague Football and Netball and Golden Square Football Netball club as the head physiotherapist, as well as with some of Bendigo's most promising and established athletes.
Craig specialises in Sports Injuries, musculoskeletal and orthopaedic conditions with a particular interest in tendon pain, knee, hip/ groin and shoulder injuries.
Memberships
AHPRA registered
APA
SPA (Titled member)
Sports Medicine Australia (SMA)
Chris Adkins
Physiotherapist
Qualifications:
B. Physio
Grad Certificate Sports Physiotherapy
Chris joined CVSP in 2013 and has since proven himself as a knowledgeable and capable physiotherapist. After graduating from LaTrobe University in 2009 he spent time working in both the Castlemaine and Bendigo public hospitals, where he gained extensive experience in both acute and sub-acute orthopaedic rehabilitation, before moving into private practice in 2013.
After several years of working in conjunction with visiting upper limb surgeon Mr. Brendan Soo, Chris has developed a keen interest in shoulders, particularly in the rehabilitation of rotator cuff repairs and shoulder stabilisations/reconstructions. His other areas of clinical interest are the knee, as well as strength and conditioning for athletes.
Chris has recently completed his Graduate Certificate in Sports Physiotherapy through LaTrobe University, and hopes to soon complete his masters degree in Sports Physiotherapy to become a titled APA Sports Physiotherapist. Chris has a passion for evidence based physiotherapy practice and thirst for knowledge. He maintains the highest clinical standards with his patients, implementing the latest evidence to assist his clients to a speedy and complete recovery.
Outside of Physiotherapy, Chris has played with the Bendigo Braves basketball team for the past 9 years, and is a keen homebrewer.
Memberships:
AHPRA registered
APA
SPA
Kerryn Harrington
Receptionist
Qualifications:
Studying Physiotherapy
Kerryn is our receptionist at Central Victorian Sports Physiotherapy and will make you feel comfortable with her warm smile.
She is currently studying physiotherapy at LaTrobe University and has plenty of experience being on the receiving end of treatment!
Kerryn has represented Australia in U'19 Basketball internationally, and currently plays with the Bendigo Spirit in the WNBL.